Its a well-known fact that funds are limited when starting out as a band that use of bands any funds can even lead to a few fights.  To help bands avoid some of that stress and to assist them in figuring out which items are the best use of funds, we've posted this chart that was put together by Digital Music News and JackPrints.  The chart shows the best Return ON Investment (ROI) by item for sale.  When in a band, you must think as a small business and Business 101 teaches that before an investment becomes a real 'investment', you must get back the initial investment money. This chart should help you make better decisions on where to apply the band funds and what things you just may want to hold off for now until you build your band's bank account.
Here are what we consider to be the 5 'must-have' items for sale at your merch table:
1-Color Stickers: This item can usually be made for anywhere between $.30-$.50/sticker and sold for $2 to $3 dollars. That's a 750% ROI.  This small amount adds up QUICKLY, and if for some reason it doesn't, you're not out all that much money. Win-win.
Full Color Stickers: Likely to be a few pennies more per sticker to make but the result is the same – a 750% ROI. And the beautiful thing about color band-stickers is that it helps with across-platform 'branding' (same logo used on your website, facebook, youtube, twitter, bandcamp, reverbnation, et al) and assists in building name recognition.
1-Color Patches: The chart shows a 727% ROI but one thing we love about this is that it's wearable advertising for your band.  We advise that you make sure to use a font that is legible and unique –  and keep it consistent across all of your print.  That means Logos, websites, concert flyers everything.  Think of the band 'KISS'   – The logo is immediately recognizable and establishes the tribe's identity of the 'Kiss Army'.
Limited Edition Posters – The chart shows a 671% ROI and you may even be able to get more if they are signed and used to promote a signature event like a CD release party or taping your band's 1st music video.
Magnets – A GREAT way for fans to support your band at the cost of a few bucks. And a sweet 581% ROI to boot.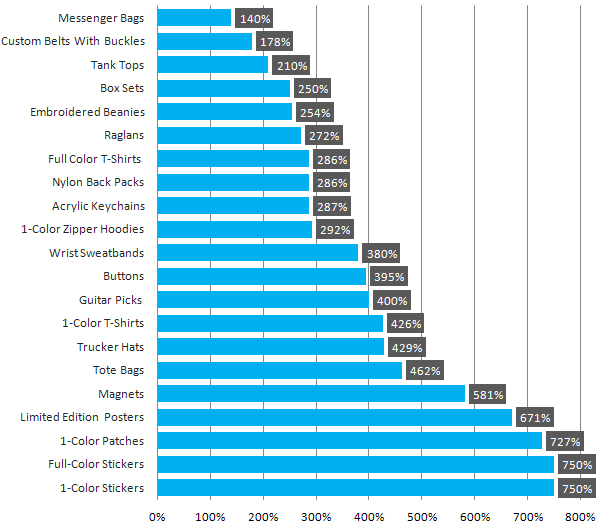 If you notice the 5 best items are also likely the least costly at the merch table as well.  The reason they sell so well is that people would rather give your band $3-$5 without thinking twice, but may pause if they are asked to buy a shirt for $15-$20.  Items that are $5 or less are likely to be purchased by the casual fan would have not likely have spent a penny on a $15 shirt or $20 trucker hat. Instead of getting $0 from these fans, you at least walk away with $5-$10 from them.   It's these small purchases that will add up quickly to be able to fund that music video or album your band seeks to record later in the year.
We hope you find this chart useful and feel free to comment with what items work best for your band.
All the best!
RNM Staff